Noble Knight Gawayn
If you control a LIGHT Normal Monster, you can Special Summon this card (from your hand) in face-up Defense Position.
Prophecy Destroyer
If this card is in your Graveyard: You can banish 3 "Spellbook" Spell Cards from your Graveyard; Special Summon this card from your Graveyard.
Number 6: Chronomaly Atlando
2 Level 6 monsters
When this card is Xyz Summoned: Target 1 "Number" monster in your Graveyard; equip that target to this card. This card gains ATK equal to half the ATK of the monster equipped by this effect. Once per turn: You can detach 1 Xyz Material from this card and send 1 card equipped by this effect to the Graveyard; halve your opponent's Life Points. You cannot conduct your Battle Phase the turn you activate this effect.
Miracle Contact
Shuffle into the Deck, from your hand, field, or Graveyard, the Fusion Material Monsters that are listed on an "Elemental HERO" Fusion Monster that lists "Elemental HERO Neos" as a Fusion Material, then Special Summon that Fusion Monster from your Extra Deck, ignoring the Summoning conditions.
Advanced Dark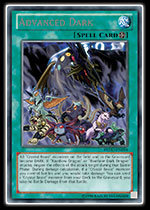 All "Crystal Beast" monsters on the field and in the Graveyard become DARK. If "Rainbow Dragon" or "Rainbow Dark Dragon" attacks, negate the effects of the attack target, during that Battle Phase. During damage calculation, if a "Crystal Beast" monster you control battles and you would take damage: You can send 1 "Crystal Beast" monster from your Deck to the Graveyard; you take no Battle Damage from that battle.